Online Pharmacy Software For Medicine Delivery And Healthcare Needs
Med.Me – Our Online Medicine Software has been designed to enable online purchase of medicines and pharma products.
Build a full inventory of medicines, healthcare products, personal care of various brands using our pharmacy store software. Medme is the best medical store management software out there.
Online Medicine Software Graphical Flow
The software enables a better customer buying experience complete with rich features to suit every customer's need. Build a powerful pharmacy delivery tracking software in the US & UK.
We follow the product-first approach. Only products available in a zone are shown. If one or more retailers sell a product, both are shown to the customer.
Here details on the product, prices, pictures and different actionable like add to cart, add to wishlist, share, or favourite are provided. This is a dynamic page and the content is set up on the CMS panel.
Availability Checks & Recommendations
Product availability is checked against the inventory and when a user clicks Add to Cart / when item is placed in cart / during checkout / when user comes back after abandoning cart.
Some medicines need a prescription attached to have the order processed. Prescriptions can be uploaded gallery. Past prescriptions are available for quick access.
For scheduled delivery the customer has to select the delivery shift. For own driver fleet, the store admin sets the shift. For central fleet, central admin sets the shift.
Users will get real time updates from the time they have placed the orders to the final delivery. Help delivery life saving medicines in Covid times .
Users can order from multiple pharmacies for online medicine delivery. There are 2 sections: Products that require a prescription & those that don't require.
The checkout begins with payment process, where the user confirms the payment method. Next he confirms the delivery address, which needs to be in the store zone.
All orders active and past are available in order history. Customers receive real-time info when: Order accepted, Picking started, Products picked/not available, substitutes, confirmation, recommendation, checkout, receipt uploaded, ready for pickup, & delivery process.
Users can give rate the store, and the driver, right after the delivery is completed. Build a robust pharmaceuticals shop software in France, germany & Europe.
This dashboard contains a powerful tool which allows the store owner (admin) to manage products, transactions, delivery and much more. Build a pharmacy store app with our medical store software in UAE, Saudi Arabia & the Middle East.
Store Manager App manages orders and dispatch through delivery partners. Store App can be configured to Auto accept / Auto dispatch.
If a product needs a prescription, the pharmacist checks and verifies it. In case of a mismatch he rejects the prescription and customer now has to upload a new prescription or remove that product.
Prescription attached with new order can be checked on order details page.
All new orders which are accepted after review process are visible on this tab. From here it moves to the picking stage.
After the order is accepted a picker is assigned. The picker can be the manager or any employee. Picking stages are: Picked, Not picked, In-Review, or Removed.
If a product is not in stock and substitutes are available, a picker can recommend/purchase/supply a substitute depending on the customer's explicit need.
checkout & Label printing
After the order has been picked, a receipt is generated by the cashier and the picker uploads its picture on the app. Items are packed and labels printed. Each label is unique to be scanned by drivers during pickup.
ready for pickup/delivery
After an order is packed it's moved to Ready for Pickup tab with 2 sub-tabs: Driver Assigned & Driver Not Assigned. Orders can be Auto Dispatched or Manually Assigned.
The Driver Flow is carefully designed as he is an important point of contact with customers. The delivery personnel manages the pick-up and drop-off of orders with this app. With our online pharmacy software quickly launch your business.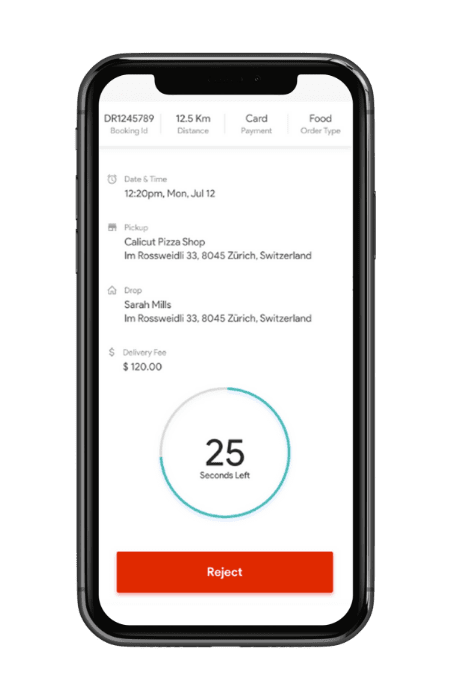 Delivery is done by Freelance Drivers or Store Drivers. Drivers can either accept or reject an order. Each order has: Order Status, Delivery Fee, Order ID, Delivery details, Customer details, Store details, Order Date & Time, and Order Type.
Drivers can orders at multiple addresses, and can provide updates both to the store owners/managers and the customers. The real-time updates ensures a seamless communication process.
Once a job is assigned, drivers can visit the stores and start picking up the items. He can undergo multiple pickups from various stores(and for different customers). He can directly send real-time updates to the customers before the delivery.
Admin can enable bag scan at the time of pickup and the driver will have to scan the unique bar code on the bag to confirm the right order has been picked.
A delivery is completed only after a customer puts a virtual signature which can be enabled or disabled from the backend. Wherever necessary picture is taken for proof of delivery.
If a customer is not available the driver can re-attempt the delivery later but has to update the status with a reason so that the admin knows that a re-attempt has happened.
PHARMACY DELIVERY SCRIPT - SOFTWARE ADMIN PANEL
SUPER ADMIN PANEL
Central admin can manage the entire medical store software, this comprises of store management or even an individual user.
STORE INVENTORY MANAGEMENT
Store-specific inventory & SKU management for admins in the online medicine delivery. Store owners can manage medicine inventory as well.
TRACK ORDERS
Track all delivery orders & products purchased on the website / app on the online medicine delivery app.
FLEET MANAGEMENT
Manage all medicine delivery operators and associated drivers collaborating with you.
FARE SETUP
Businesses can opt for mileage-based pricing or fixed pricing depending on zones or distance for delivery fares on the medicine delivery script.
PROMOTIONS & REFERRALS
Setup and manage promotion codes and referral campaigns on the website / app.
BIRD'S EYE VIEW
Track all delivery drivers in real-time across various cities in real-time.
ACCOUNTING
Complete financial accounting system is available to keep track of store earnings and driver earnings.
PAYROLL
Cash & card earnings for drivers can be managed and payments made direct to driver's bank accounts.
MESSAGING
Send push messages to Store owners, drivers or customers directly from the admin.
DISPATCHERS-NETMEDS CLONE SCRIPT
Manage dispatchers in marked out zones for different cities.
STORE MANAGEMENT
Individual store setup & management.
SEO MANAGEMENT
Mobile responsive, SEO friendly, sitemap & slug generation.
COMMISSION SETUP
Setup the app commission individually for various merchants.
MANAGE MENU
Create custom menus for various pharmacies, franchises, stores or import an XLS file.
ORDER ANALYTICS
Detailed analytics is available for individual items, stores or overall medicine delivery business performance.
REPORTS & REVIEWS
Rate & review the delivery service or pharmacy to maintain high standards.
WHY CHOOSE MED.ME AS YOUR ONLINE MEDICINE SOFTWARE/ONLINE PHARMACY SOFTWARE APP SOLUTION?
Inspired from top medicine delivery apps like 1mg, Practo, etc – Med.Me – online pharmacy software, has been designed to be a feature-rich online medicine delivery backed by robust & scalable tech-architecture. Build the best pharmacy management system in Australia and Africa.
100% Customizable
Our pharmacy delivery software can be customised for various deliveries such as medicines, groceries, flowers, food, etc. Med.Me has been developed to provide a unique white-label pharmacy delivery software solution.
PCI Compliant – Netmeds Clone Script
We assure PCI compliance that will ensure no legal issues while accepting in-app purchases on your customized medicine delivery software.
Prebuilt Scripts
Features such as proprietary pre-built medicine delivery solution, store management solution, ensures that the store app moves from development to deployment faster than any other delivery app.
Scalable & Clean Design
Using state of the art app container technology, clean coding practices, use of microservice architecture and simultaneously integrating safety & security features has made MED.ME a robust Online Medicine Software solution available in the market today.
Multi-Language & Multi-Currency Support
Irrespective of your location or currency preference, our software solution can be customized for any medicine delivery business or pharmacy store across the globe.
Referral & Promotions
Our pharmacy delivery software is equipped with promo & referral features for both customers & drivers to enhance user base & overall user retention. Our underlying scalable tech architecture ensures our medicine delivery app can handle the growth of your user-base.
SEO Friendly Design
All pharmacy purchase and delivery solutions are built using the MED.ME software. These are designed keeping the best SEO practices for apps. This aids in the apps overall ranking in search engines & online app stores.
App Monitoring & Chatbots
The online medicine delivery software is the only customizable pharmacy delivery script that provides chatbot-integrated app monitoring services. This ensures on-demand app performance updates for your personalized pharmacy app.
Security
Our online pharmacy software solution is robust, scalable and secure. SSL-powered API's, Keychain, JWT, reverse proxy setup ensures that security extends all the way from the app to each individual API.