ONLINE SCHOOL SOFTWARE | ONLINE CLASSROOM SOFTWARE
ZoomK12 is an innovative cloud solution for online education, especially for K–12 Schools and Colleges. This entire package of online school software and digital study material is perfectly suited for the new post Covid-19 environment.
What is Online Classroom Software?
This well-crafted and designed student management software solution will drive the much needed digital transformation and have a positive impact across all K-12 schools. This online school software has been designed to be flexible and scalable so that it would work efficiently in all possible situations. It is absolutely customizable and our software development team will be all the more willing to implement this online school software solution tailor-made to your requirements.
GET YOUR SCHOOL ONLINE THROUGH
SECURE ONLINE LIVE VIDEO SESSIONS
During this COVID-19 season it is imperative that your school has a digital strategy in place to host online classes. Parents and students will be relieved that one can easily join a class remotely via desktops or laptops that is an iOS or Android device.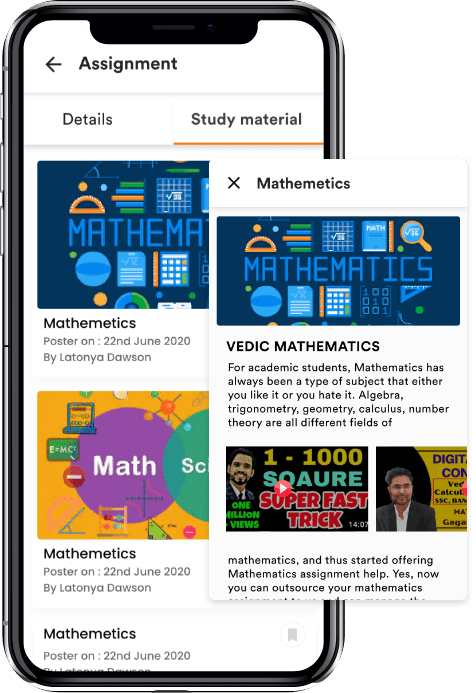 Teachers can easily create interactive study material on this online school software to hold extensive classes with the help of their material builder that is totally supported through embedded URL's, images, videos, Youtube links, etc.
INTERACT WITH PARENTS LIVE VIA REAL-TIME CHAT
The online school software ensures that teachers can interact with parents in real-time. This will enhance the confidence of parents regarding the education their children will receive.
PARENT/STUDENT APP FEATURES
A simple and user friendly Home Page. Users can explore the list of stars on the cameo clone, and view their profile. They can also search for a specific celeb on our cameo app clone.
Support is provided for multiple student profiles on one app. This enables you to add the profile of different children in multiple schools on a single app.
You can view routines for any day on this online school system software so as to know well in advance regarding holidays, classes, events, etc.
View assignments that are due and the study material required to complete the assignment.
View all study material with embedded URL's, images, videos and Youtube URL's.
Track the attendance for each student on the online school software.
Track student grades with the help of the online classroom software.
Chat in real-time with teachers regarding any matter as easily as on WhatsApp.
Start online classes easily with the click of a button on the online school software.
Manage online classes, bar students from attending, mute / un-mute any student, spotlight a particular student's video, allow students to share screen and present material.
Teacher can view class routine for the day or other days too .
Create assignments for students via the online school software.
Class teachers have been enabled to take attendance.
Grade assignments of students through the software solution.
Chat with parents on the online school software.
Teacher can view all student details that are required by them.
Create amazing social posts with images and videos to enhance interest in events.
Update parents on their child's progress so that they are aware of student's standing.
GENERATE UNIQUE ID
A unique class ID would be auto-generated for each session/class and it would be synced with the routine. This is to enable security and rightful participation in each session/class and after the session/class ends this ID would no longer be valid.
SPOTLIGHT, ALLOW, DENY
The teacher has the capability to spotlight any particular student during a session/class. The teacher can also allow/deny permission to switch on/off the video/audio of a particular student so as to maintain decorum during a class/session.
SESSIONS ARE ENCRYPTED
All video sessions are encrypted and secure through DTLS- SRTP in WebRTC having end-to-end encryption using a uniquely generated key. Participants can login using this key and watch the transmitted video/audio. The system also has hop-by-hop encryption in the video bridge itself. This encrypts the webRTC packets using the participant and meeting ID which are then sent to other participants.
TEACHER HAS ABSOLUTE CONTROL
But it is to be noted that it is the teacher who controls the class and the session cannot begin until and unless the teacher initiates the class on this online school software.
Assignments

Manage various assignments as per the schedule
Manage Attendance

Mark and manage attendance of every student
Manage Batches

Manage batches of students for an academic year.
Class Routine

Manage class routines individually for every class/section
Manage Exams

Plan and manage exam schedule for the entire school
Grade Event

Events can be graded as per set standards
Grade System

Entire grading of a class on various aspects can be viewed
Grade Classes

Grading of all the classes individually can be viewed
Manage Guardians

Manage the guardians of all students with necessary details
School Events

Keep a tab on all school events on one screen
Detailed Class Routine

Manage the routines of each class in detail
Manage Social Posts

Manage posts of on social media in an organized manner
Manage student details

Manage the details of all students individually
Manage study material

Manage study material of different subject/topics/class
Manage subjects

Manage subjects assigned for different classes on one screen
Manage all teachers

Manage all teachers who are on the rolls
Manage teacher details

Manage details of all teachers working with the school
Manage teacher routine

Manage routines allocated for different teachers